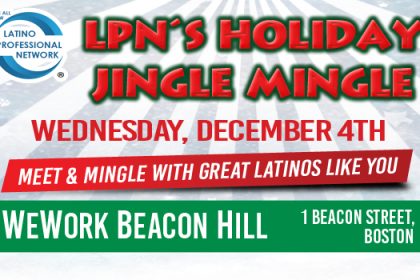 Are you interested in connecting with other Latino Professionals in a great social setting? Well, our Holiday Jingle Mingle is the perfect event to make that happen. We'll have free appetizers and continue with our networking exclusive, Speed Networking, every ten minutes meet another great person in the room.
THIS MONTH'S SPONSOR:
BE THE MATCH: Did you know that every three minutes someone is diagnosed with blood cancer? For many of those patients a blood stem cell transplant is their only option for a cure. But Latino patients only have a 46% chance of finding a matching donor on the Be The Match registry. We need your help to up the odds. Learn more at http://www.timetobethematch.org and join our race against time."
Wednesday, December 31st, 5:30 PM ~ 8 PM
WeWork – One Beacon
1 Beacon Street (Beacon Hill)
Boston, MA 02108
Please RSVP below or through our Eventbrite Page:
Business Casual/Classy Evening attired requested.